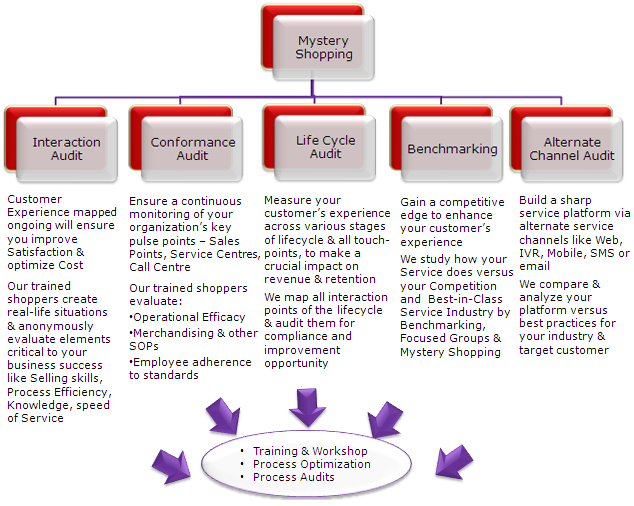 Mystery Shopping
There are business benefits to providing a consistent & outstanding customer experience.
Can you afford a bad service experience, knowing that 4 our 5 customers who have a bad service experience will tell others about it. Others may switch service providers without even giving a chance to rectify the issue.
So how can a service provider (telecom, retail, healthcare, BPO, bank, insurer, or investment firm) demonstrate commitment to customers and continue to win their trust?
By consistently inspecting what you to offer, will help improve service delivery while firmly establishing you as a service provider of choice, a trustworthy partner.
Positive engagement will also ensure enhanced usage,opportunity to cross sell & improved retention.
Contact us to understand more on how this can be achieved for your organization.
Or read further
Why Mystery Shopping?
When location, pricing and product range are not unique, service is key diffrentiation
It costs much more to get a new customer than to keep an existing one
One unhappy customer will tell 5 other people of their bad experience with service
Four of five unhappy customers leave their service provider
We create customized programs that provide actionable insights to the management They also motivate and enthuse teams to excel in delivering service.
Net impact is higher customer & employee retention with increase customer advocacy.
What differentiates our Mystery Shopping Programs?
Customized Program – At RAG Scores a Mystery Shopping Program is far more than the typical "Tick Box" activity by going into the detail of what really affects your customers' experience. As our guiding principle is that the best feedback comes from genuine consumers in a real time situation only.
Detailed Report – After every mystery visit each location will receive a detailed, yet easy to understand report, which identifies what you are doing well and where the opportunities lie to improve.
Analysis & Insight – Basis our first hand experience in service across industries (Hospitality, Financial Services, Telecom, healthcare and BPOs) we bring you a true outside-in perspective.
Improve the bottom line – Our mystery shopping programs identify the key touch-points in the customers' journey that will improve sales, customer advocacy and ultimately profit.
Our reporting system, RAG Track, ensures that you have a real-time pulse of the findings.
Unique advantages include:
Objective Measurement – With national coverage, our team of auditors provide independent measurement and the flexibility to rapidly implement campaigns at short notice.
Data Capture near Real Time – You will receive live reports about your campaign as it happens. Photographic evidence and signatures can also be captured and stored online.
Critical Focus Alerts – With observations available near real time, our RAG ALERTS function, updates the key person responsible in your organization, so any in-store issues are rapidly dealt with and also highlight any issues in the supply chain.
Analysis & Insight – Both during and after the campaign you will have access to report providing you with full analysis and insight highlighting the successes and where improvements can be made in the future .
"Risk Free Trial Offer":Try out any of our offerings for a trial period upto 3 months.
Club Mahindra
Mapping typical lifecycle & major events
Analyse opportunities for Proactive Service Management, define desired processes needed based on outcomes
Identifying gaps in Member Profiling & Data capture, and define steps & processes needed to enrich Data
Study existing CRM & other allied systems for ability to support Data Capture & Analytics
Define Outcomes OR Measures for new processes
Define roadmap for implementation & pilot design

Softage Information Technology Pvt Ltd
People Capability building & restructuring
Development centres
Assessment centres
Skills training
Team building
Project management
Performance management system

Red Hot Cafe
Mystery dining
Up-sell & cross-sell training
Frontline training

Detailed pre-launch audit & assessment all Telecom processes ( as well as key inter-function linkages) including mystery audits, testing & competition benchmarking
Establishing key metrics for the Service Operations teams focussing on Cost efficiencies
Proposal evaluation for the call centre & technology outsourcing
Budgeting & forecasting
Optimization of the existing call centre & walk-in performance on key metrics
Established performance & quality framework for the Contact Centre
Optimization of call centre processes and technology and road map for future initiatives
Best Practice implementation
Training of key resources for contact centre management

Project SENSATION : Retail Service Quality improvement program
Mystery shopping
Point-of-Sale Audits

Competition Benchmarking
Process design and documentation

Market research : Territory potential
Competition benchmarking
Improving retail experience
Customer relationship model for repeat business
Improve visibility and reach

Funcity, India(Part of Landmark Group, UAE)
Customer life cycle management
Customer retention program
Revenue optimization
Customer segmentation

Mystery dining
Guest retention
Up-selling & cross-selling
Frontline training

Service audit - Experience & Standardization.
Recommendations on service improvement, standardization & technology deployment